RAZOR MD - iGRIP BLACK RAZOR

Weight: 78grams
Made in USA
The iGRIP Black Razor is our #1 seller and continues to impress the celebrity in all of us. It's a hand-made black handle with a laser engraved grip. This razor ensures the most smooth & comfortable shave experience using the latest advances in technology. It ships in signature gift case.
It's compatible and comes with one Gillette Fusion blade and is also compatible with the NEW Gillette Fusion ProGlide blade.
The prescription for the perfect shave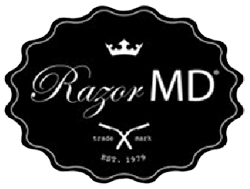 Unofficially the company was founded in the 1920's, in the basement of Brooklyn pharmacy, by today owner's great grandfather . All were registered pharmacists, chemists had a passion for learning how to find a way to make better products. They were not happy with the selection of straight razors available so they decided to make their own. They sold them in the pharmacy and gained a local following while perfecting the craft over the next few decades.
Fast forward to 1979, company was incorporated as Razor MD and entered the business. Razor MD® is a firm believer in the barbershop shave and created the company around one premise, to bring the old-fashioned trade home. The South Florida based company manufacturers, designs & distributes custom razors, shaving gift sets, grooming kits and a full line of skincare and shaving cream products which are now sold worldwide. Whether you choose the nickel finish or the laser-engraved iGRIP™ razor, one fact is certain--the products are all handmade in America and will ensure the very best possible shave experience without breaking the bank!